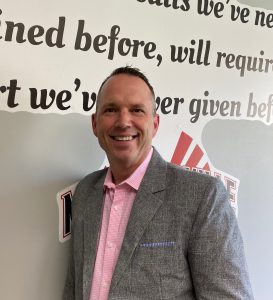 Red Raider Community:
Optimism, hope, and anxiety are the words that best describe our feelings as we begin the 21-22 school year.
We are optimistic because we are opening with a full in-person school model. We are hopeful that all of our planning and protocols for safety will enable us to remain open and minimize quarantines. We are anxious because of the number of things that are outside of our control.
From an educational standpoint we have done a tremendous amount of work preparing for year two of our school impact process. The ultimate goal of equity & inclusivity is not merely for access to opportunities, but rather, access to outcomes. We define equity as meeting each and every school community member where they are at, and provide them with what they need in order to be successful. We define inclusivity as engaging all school community members in an individualized learning plan based on where they are at. We will become a Community of Learners.
To that end, over 100 faculty and staff participated in one or more of over 40 professional learning opportunities this summer. We have altered our professional schedule to maximize collaboration and individual professional learning of our team members so that they can become visible instructors who use different pathways to assess student learning and application of skills and dispositions to differentiate instruction and assessment.
Lastly, and most importantly we continue to promote a social-emotional learning environment for all of our students. This atmosphere is critical to creating safe learning environments under typical circumstances. What our students have been going through certainly can only be described as atypical.
We believe that we can thrive, despite the inherent challenges. We know this, because we are #OneMechanicville!
My best,
Bruce